Our Mission
Your smile speaks before you even say a word!
Our mission is to offer you exceptional dental treatments in comfortable, enjoyable surroundings.
When you see our office you'll experience all that modern dentistry has to offer, including an all-inclusive set of general, restorative and cosmetic dental services to satisfy the requirements of the entire family. Our aim will be to help each individual in attaining and maintaining long-term oral health and an attractive grin.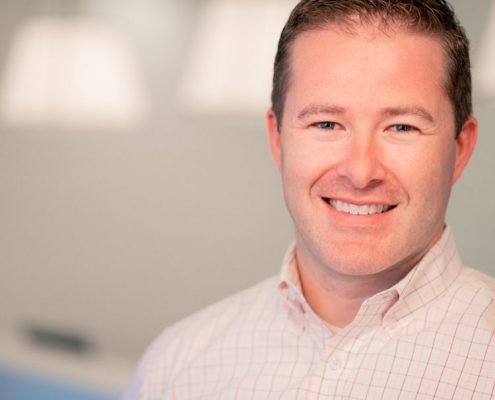 Dr. Nate Cooney, originally from Pleasant View, Utah, graduated from Weber State University with his bachelor's degree in Zoology and Chemistry. He attended The Ohio State University where he received his Doctor of Dental Surgery degree with honors in 2011 (Go Bucks!). Before coming to Syracuse Dr. Cooney practiced in Pleasant View, Clinton, and Roy but it has always been a dream of his to have his own practice. He is happy to be working in the community where he and his family live. Dr. Cooney is a member of The American Dental Association and the Utah Dental Association. He loves to learn. He stays up to date on the newest innovations in dentistry, and makes sure his patients have access to the best care. He is kind and compassionate. He truly listens to his patients, and works hard to individualize care for each one. He loves spending time with his wife and three children. His hobbies are most any sport, road biking, gardening and anything outside.
Dr. Jeremy Godderidge has lived in Davis county most of his life. He was raised in Farmington and attended Davis High School. He attended Weber State University and then went to The University Of Iowa where he graduated from the College of Dentistry with his Doctor of Dental Surgery in 2006. He returned home to Davis County where he has been practicing dentistry ever since. He loves being part of a great community where he can raise his family. He has wonderful wife and 3 great kids. He loves to travel with his family. Dr. Godderidge has a love for teaching. When he is not practicing dentistry, he is an assistant professor at Roseman University, College of Dental Medicine.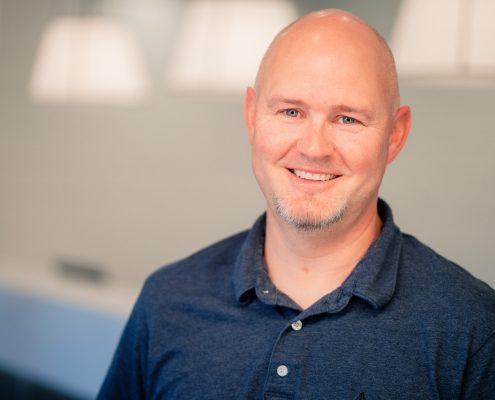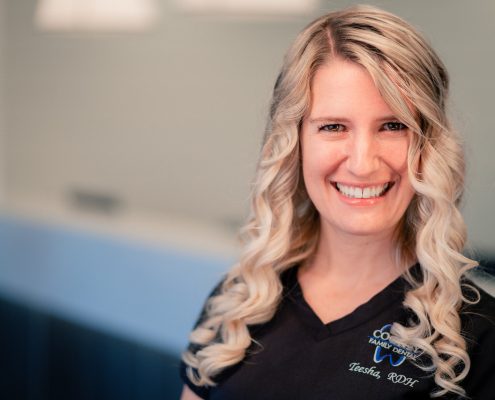 Teesha, R.D.H.
Teesha has been working in the dental field since she graduated from high school. She attended the Ogden-Weber Applied Technology College in high school for dental assisting, then started working as a dental assistant as she started college at Weber State University. She decided to continue her education in dentistry and graduated from Weber in 2016 with her Bachelors of Science in Dental Hygiene degree. Teesha is married and has a little boy. She likes watching sports, cooking, and traveling.
Meet the Dental Assistants
Melanie
Melanie was born and raised in North Ogden, Utah. She attended Dixie College. She has been working as a dental assistant for 9 years and has been Dr. Cooney's assistant since 2011, working with him both in Pleasant View and Roy. She loves working with people and helping them feel better about themselves through the services provided at Cooney Family Dental. She enjoys learning about new techniques and products that improve the overall experience while getting dental treatment accomplished. Melanie, her husband, and 3 children live in Syracuse. They love camping, fishing, geocaching, and pretty much anything that involves being outside.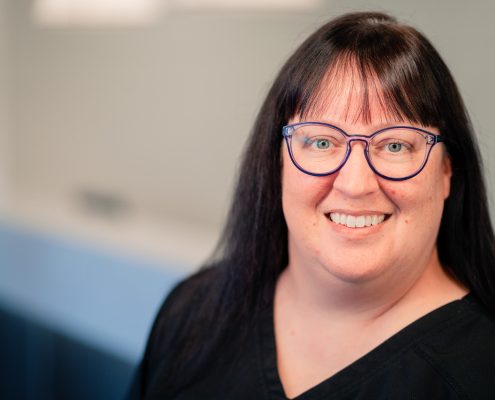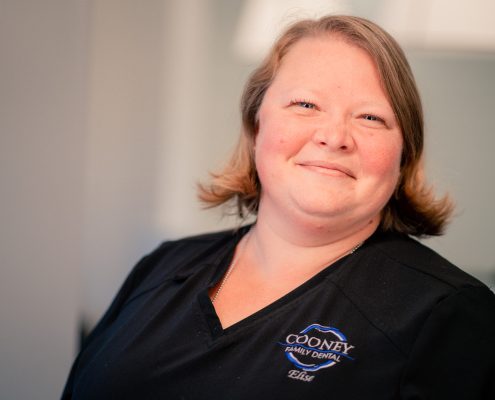 Elise
Elise was born in Chicago, Illinois but grew up in Roy, Utah. She studied at the Ogden-Weber Applied Technology Center, Salt Lake Community College, Weber State University, and Western Governors University. She began working as a dental assistant in June 1998 and still loves it today. She has worked for Dr Cooney since 2012 in both Pleasant View and Roy and is now happy to be with him in his own office in Syracuse. Elise is happily married to her high school sweetheart and has 4 children. She spends her free time working on her small ranch, camping, and playing outdoors with her family and many animals.